Travel
What To Look For In A Travel Companion
Whether you're traveling on business or for fun, one thing remains true: it's much better with a sidekick. How do you find the perfect companion? Someone who can keep up with your pace, enjoys your interests and shares your passion for early morning hikes? To help us find the right travel companion, we reached out to frequent travelers, businesspeople, and travel bloggers across the country.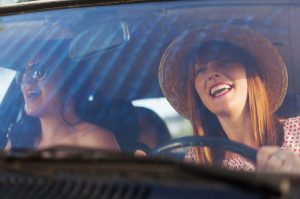 Expect The Unexpected
Jessica Netmaker, a PBS host, says that flexibility is the most important aspect of choosing people to share your new adventure. Things happen. Plan fail. It rains. It snows. It's too hot. It's too cold. You may discover something better than you originally planned and need to adjust your schedule. Netmaker, who writes about travels in her home state of Indiana at littleindiana.com, and travel in general at travelisablog.com, believes that the best travel buddy is up for anything and won't hold you back. She says that the ideal travel companion is punctual, respectful, and thrives in adventure and the unknown. No matter what happens, you need travel partners who are able to handle any deviations from your plan without getting mad or thrown out of control.
Stop And Smell Twinkies
Travel buddies may be able to introduce you to new things, such as fried Twinkies. Timothy Reinhardt is a senior consultant with RMC Pharmaceutical Solutions and a site manager. He travels extensively throughout the U.S. "Once, [while trying to travel to] the New York metropolitan area, our flight was delayed multiple times," he remembers. "While sitting in the Chicago airport, instead of joining in the swelling chorus of complaint, my travel companion noticed our hotel [would be] located next to Citi Field. To counter the frustration of being stuck in the airport, he purchased tickets to enjoy a night of relaxation.
Reinhardt said that the pair drove to the vendor the next morning with bright smiles and a renewed energy to work. "Business travelers often rush from the airport to the rental car to their hotel, but my friend was slow to take the time to see the amazing places. My travel companion was not a corporate shopper and allowed me to enjoy unique experiences like the Kansas State Fair's Broadway shows and Twinkies deep-fried at the Kansas State Fair.
Embrace Your Differences
Kay Bolden writes about travel and nature at kaybolden.com. "As a solo woman, I didn't think to look for a travel buddy until I met Cecelia." Bolden met her soon to be favorite travel companion after they were both stranded in Toronto's bad weather. Bolden says that they were both struggling to get comfortable enough for a floor nap. She was tall, quiet, and well-dressed. She enjoys posh boutiques, snazzy restaurants, and fancy hotels. I prefer forest trails and locally brewed beer, and cheap guesthouses. Our commonality is our curiosity about new places and our quest for the perfect cappuccino.
Bolden says that it doesn't matter what. Bolden says, "The best road buddy does not have to share your interests – just your travel philosophy. Cecelia is aware that she can hike with me and that I am welcome to join her at brunch. She says that she is happy for us to be apart for the day, and then meet up again for dessert. "We are beginning to see the best of each other. She persuaded last year that I spend an entire day at an Italian spa. Although she doesn't yet know it, this year she will be enjoying haggis in Scotland's highlands. 
Find Your Pace
Find a travel buddy that enjoys the same pace as you, whether you are a fitness enthusiast or a relaxed person who likes to travel. Frank Hyman, a blogger on travel, suggests that you find a travel companion who is physically fit. His wife, for example, is a keen fitness fan who enjoys going to the gym for Zumba or yoga. They were both in good health and managed to connect when they had to rush for time. "Our flight to the Copenhagen airport was very late for our connection," he says. "So we grabbed our bags and ran straight to the opposite end, hoping to make it to that beautiful airport." Hyman and his wife were among those who were the last to board the plane. They noticed three things. He says, "One, it wasn't a third full; second, almost everybody who made the flight was as tired as us; and third, everyone was stylishly dressed." "So, I believe we were the only Americans who made that connection."
Yoga and Zumba are not for everyone. Leigh Hines runs the lifestyle/travel blog hinessightblog.com. She says that she and her husband are "lazy travelers." "We enjoy being at the same speed, and it works for us. After waking up, we like to have coffee in our hotel rooms for an hour. He keeps up with the news while I keep my eyes on social media. We both don't like to be in cities as soon as the sun rises. We don't like being too busy. We love to soak up the atmosphere at a place, be it a cafe or a museum. Hines' blog aims to encourage parents to pack for family travel. She says, "We didn't really change our ways after we had children." "They have become lazy travelers and they enjoy the peace and quiet of a hotel room."