Travel
How To Survive Long Layovers With Kids
When I booked our recent family flight from North Carolina and Texas, a few hours of layover was not a major deal. After all, we saved hundreds of dollars by stopping over in Atlanta. The reality of what was to come set in as soon as I saw the "fasten your seat belts" light indicating that it was time for our first descent. After waiting for our bags and security to clear, waiting for us to board the plane, then sitting for the duration of flight, I realized that this was just the beginning of a new round of waiting. This was with three children, aged 5-15.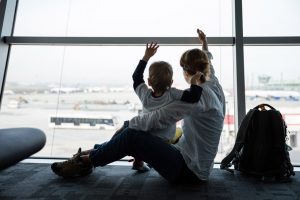 Anyone who's ever had to wait for their children while on a flight can relate. Let's face the facts: even the most beautiful airport in the country for children won't satisfy a child excited about vacation. With a little creativity and planning, it's possible to make the time between flights enjoyable for everyone. When you travel with children, it is a great opportunity to get active and get moving. St. Augustine has a small population of approximately 14,000 people. It's also packed with must-see places that you can explore on a leisurely walk. If says that one of her favorite things about St. Augustine is the "closeness" of everything.
Walk, but not like a person. The kids can take a walk up and down the terminal in the role of an elephant, a mummy, or a penguin. You might get some sideways glances but you will never see these people again. Locate an empty gate close to you and transform it into your playground. Play Simon Says Mother, May I with your children. Red Light, Green Light. Refrain from allowing your children to play on their smartphones or tablets. They'll need the movies and games they downloaded for the flight. Instead, when you arrive at your gate, open a separate bag with games and activities. This will build anticipation. These games make great additions to your bag of tricks.
Uno and Old Maid don't require a lot of instruction–airports can be loud, so you don't want a card game that's too complicated. Toys such as jacks, a slimy or small Lego sets take up very little space. Brain games such as I Spy or scavenger hunting's get everyone involved. Instead of collecting items, encourage your children to search for objects in the terminal that begin with every letter of the alphabet. Give your kids index cards and markers to help them write down their finds and make sure you have a treat for the winner. Many airports offer indoor play areas. These include Chicago O'Hare and Seattle-Tacoma as well as Dallas-Fort Worth, Minneapolis-St. Paul, Dallas-Fort Worth, Dallas-Fort Worth, and Chicago O'Hare. These aren't your typical playgrounds that have slides and climbing toys. These play areas are filled with fun, plane-themed options that allow imaginations to run wild.
Many airports have a wide selection of shops that rival any shopping center. Ask your children to help you shop for small gifts for family and friends while you are on your way to visit them. You may be able to take a short sightseeing trip if your layover is not too long. To find nearby attractions, do some research before you leave the airport. A short train ride will take you from the St. Paul airport up to the Mall of America. You can visit the World of Coca-Cola in Atlanta. You can make it educational at the Carnegie Science Center in Pittsburgh or climb to the top on the Gateway Arch in Pittsburgh.
It doesn't matter if you make it your top priority when you get off the plane, or if you wait until you run out of games. Taking a break to eat is an excellent way to pass the time. You can bring your own food or purchase items at the airport's dining area. It's much easier for children to sit at a table and not struggle with the tray tables on planes. Sandwiches can be packed in foil or sandwich bags to save money and avoid having to track down Tupperware. Vegetables such as carrots, apples, and pears travel well. You can save money by purchasing items that your whole family can split. For example, a large sub that you can cut into multiple pieces. To stay hydrated, bring reusable water bottles that you can refill at the airport. You should cheer on your final destination, your next stop!