Travel
10 Awesome Summer Destinations
You might be interested to find a summer destination that is not too far from the big cities, as some of the country's most famous attractions are beginning to welcome back tourists. Some of our top summer destinations are not the places you would think to visit at first glance. They are great because of that! Our summer travel guide will provide you with plenty of fun activities, including outdoor adventures, culture, and dining.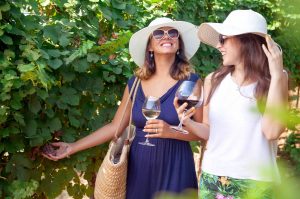 Enjoy the warm Cali Sun in Ventura, California
Ventura's top summertime activities include relaxing beaches, local restaurants, and the Channel Islands. Ditch the California theme park crowds and book a stay in Ventura for a relaxing seaside vacation. Chill by the waves at Harbor Cove Beach, where soothing waters become the perfect haven for anyone wanting to spend time on the waterfront. Find your favorite seafood dish walking along the many local restaurants on Main Street, including Lure Fish House that offers their version of house ceviche. Stop by Mission Basilica San Buenaventura to learn more about the missionaries who built this historic landmark in 1782. You can also experience some of the best snorkeling and scuba diving on the planet by hopping the ferry to Channel Islands National Park.
Savor Days of Wine and Roses Grand Junction, Colorado
Strike the perfect chord between outdoor adventure and culture by booking a hotel in Grand Junction for your Colorado vacation. You can go mountain biking, or you can walk along the tranquil path that runs alongside the Colorado River. Unwind after your excursion while sipping wine at one of 20 local vineyards or enjoy the fragrance of roses, herbs and desert flowers at the Western Colorado Botanical Gardens. You'll also find the nation's most extensive outdoor sculpture collection in the city–known as Art on the Corner along downtown's Main Street–with more than 100 pieces of art. To discover the 300 lakes and trails that wind through Grand Mesa National Forest, head up the mesa behind city.
Desert Finds Tucson, Arizona – Take Advantage
Tucson's unique Southwest style is reflected in its murals, museums, and tasty street food. Although it might seem counterintuitive, you should head to Arizona's deserts where the heat can reach 100 degrees in summer. But the upside? You won't see any crowds! Stay in Tucson and enjoy climate-controlled attractions like the Pima Air and Space Museum–one of the largest air museums in the world. Street- Taco and Beer Co. offer delicious food and cold beverages. Take a drive up Catalina Highway to Mt. Lemmon. The journey covers only 27 miles and takes you through all climate zones from Mexico to Canada. You will end up in cool, high forests.
Sway in the Island Breeze Savannah, Georgia
Tybee Island is located near Savannah, Georgia. Here you will find a lighthouse and water sports as well as bird watching. Although the South can be hot and humid during summer, Tybee Island is 15 miles east from Savannah, Georgia. There you will find milder temperatures and cool ocean breezes. Climb 178 spiral steps to score an amazing view from the Tybee Island Lighthouse, the tallest and oldest in the state. You can walk along the five-miles of sandy beaches on the island or rent a kayak and paddleboard to explore its coastline from the water. Savannah is a great place to go if you are looking to explore the city's attractions. This historic area is home to boutiques, delicious dining options and Forsyth park. You can walk or bike the 50-acre green lung, and make sure you take a photo in front the water fountain that dates back to 1840s.
Lock in Rental Car Deals
You can rent a car on your summer vacation. Members of Choice Privileges (r) can enjoy up to 30% off base rates for qualifying Avis(r), and Budget(r). You can also earn 1,000 points by renting a car at certain locations. You can rent a car for up to 4 days. Get an additional 1,000 points
The Shores of Puget Sound, Everett Washington
Puget Sound is a beautiful spot for summer recreation in Washington's Pacific Northwest. Stay in Everett, Washington, and you'll be perfectly poised to enjoy all the Pacific Northwest has to offer. Hop aboard a free ferry to Jetty Island to splash in Puget Sound along a gently sloping beach with sun-warmed waters. It is also a great spot for kiteboarding and bird watching. Evergreen Arboretum and Gardens is a peaceful haven of lush greenery, including a sculpture garden, rock garden and Northwest native plant trail. You can also visit Whidbey Island's heritage farms or take the I-5 south to Seattle to add more attractions.
Portland, Maine – Along the North Atlantic Coastline
Maine is the place to eat lobster, take in the fresh air and plan your summer vacation with the blue ocean. Salty sea breezes, fresh lobster and fishing village ambiance are just three reasons to plan a summer vacation in Portland, Maine. The rugged coastline has many beaches, whether you choose to stay in town, or travel north to Freeport or south towards Kennebunk. This coastal town is famous for its Victorian-style homes, which are located in the West End. The Western Promenade offers stunning views of the Fore River, surrounding mountains and more. When it's time to for dinner, head over to the Luke's Lobster Portland Pier. Take in the views of fishing boats as they cruise along the river while enjoying a fresh lobster roll. Are you ready for an adrenaline pumping change of pace? Head to Palace Playland amusement park to scream your way through rides dotting the beachfront.
On the Sunny Side of the Smokies, Maggie Valley, North Carolina
The Great Smoky Mountains are close to home, so you don't need to travel far to enjoy the enriching and relaxing spaces. Tucked in the folds of the Great Smoky Mountains of North Carolina are the small town feels and endless green spaces of a relaxing vacation in Maggie Valley. Head off to explore Great Smoky Mountains National Park 16 miles west. You can also follow the Blue Ridge Parkway to see the most beautiful views. There are plenty of things to do within the city limits. You can play a round at Maggie Valley Golf Club, or fish in the Mountain Heritage Trout Waters alongside Jonathan Creek. Do you love old motorcycles or memorabilia. Check out the Wheels Through Time Museum, with 40,000 square feet of space that displays the history of old motorcycles and related art.
Relax in the Southern Waves at Myrtle Beach South Carolina
Myrtle Beach's white sands, boardwalk and summertime fun await everyone. It is no secret that South Carolina's Atlantic Coast is one of the most popular summer destinations. If you plan your vacation in Myrtle Beach for late May or June, you're more likely to avoid the crowds that flock here later in the summer. The crowds in this summer paradise for families are worth it. There are 60 miles of golden sand beach, plenty of space for you to stretch out and several piers that allow you to rent equipment to fish. Myrtle Beach Boardwalk offers hours of entertainment. Get an unparalleled view from the Myrtle Beach SkyWheel as it soars 200 feet into the air while you enjoy climate-controlled comfort in your enclosed gondola. You'll also find motion-activated movie theatres, ziplines, and arcades back on Earth!
Haven for History Buffs and Motorcycles, Keystone, South Dakota
You'll make your South Dakota summer vacation unforgettable with the faces of Crazy Horse Memorial and Mount Rushmore. Keystone, South Dakota, is an ideal summer destination for bikers, history buffs, and motorcyclists. Mount Rushmore is a national treasure, carved into the granite mountainside by Gutzon Borglum in 1941. Although the impressive sculpture can be seen from the road, it is worth stopping for a while to see this magnificent monument. Another impressive mountain sculpture is Crazy Horse Memorial located less than 20 miles from Mount Rushmore. This landmark, which is still under construction, offers a close-up view of the carvings in progress. Bikers can hit the open road with a visit to Sturgis, home of the Sturgis Motorcycle Museum & Hall of Fame.
Spend time in Mother Nature's Playground – Bozeman, Montana
Ousel Falls Waterfall is a natural treasure of Mother Nature near Bozeman, Montana. Travelers who love the great outdoors can expect the best of Mother Nature with a trip to Bozeman, Montana. The region is known for its snow skiing but the town can also be used as a playground for summer activities. Mountain biking, white water rafting, horseback riding, and fly fishing are all options for those who want to be more adventurous. If you want to hike the Rocky Mountains, drive one hour to hike Ousel Falls Park Trail with its rushing waterfall and scenic views. Adventure Mountain at Big Sky Resort, located just 30 miles from Bozeman, is a great place for children of all ages. It features a giant swing, bungee trampoline and gemstone mining.